Remington Small Pistol Primers In Stock. Being a leader in both the firearms and ammunition industry Remington knows how important it is to have the highest quality ammunition available to make your firearm perform to its fullest potential.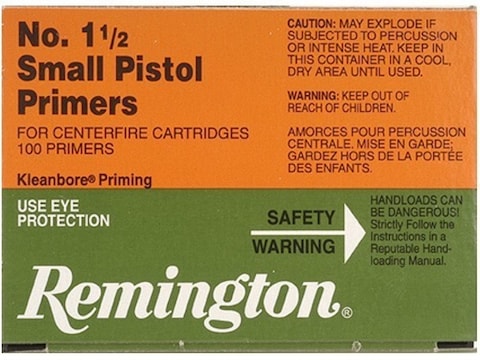 This starts with using the best components possible to manufacture Remington Small Pistol Primers in stock for sale online . These are the same primers Remington uses in the production of their own ammunition and performs to their highest standards.
If you want the best possible out of your firearm you have to start with the best that's why reloaders choose small pistol primers for their loads.
Within every Remington primer is a group of subcomponents assembled to exceptionally tight tolerances. Primer cup dimensions are controlled to .0001″, and the priming mix is specially formulated for consistent ignition with a wide variety of powder types.
.
Made In United States of America
Specifications of Remington Small Pistol Primers #1-1/2 Box of 1000 (10 Trays of 100);
Product Information
| | |
| --- | --- |
| Quantity | 1000 Piece |
| Primer Size | Small Pistol |
| Country of Origin | United States of America |
Delivery Information
| | |
| --- | --- |
| Shipping Weight | 0.790 Pounds |